Children's Urgent Care in Merced, CA
At Getwell Urgent Care, we believe in providing a higher level of care, especially when it comes to your little ones. When you're in need of pediatric care, look no further than the treatments offered at our clinic.

Call

today to speak with one of our professionals or

schedule an appointment

. Serving patients from Merced, CA. Atwater, CA. Livingston, CA. Chowchilla, CA. Turlock, CA. Ballico, CA. Delhi, CA. The Grove, CA. Bear Creek, CA. Planada, CA. Le Grand, CA. Athlone, CA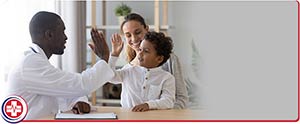 Table of Contents:
What is a walk-in pediatric clinic?
What is the typical age a child can be seen at your clinic?
How do I find a good pediatrician?
When should you start looking for a pediatrician?
Pediatric care is essential to the health of our children. Our providers can treat children on a walk in basis, which isn't always easy when are long lines. Our medical staff are trained to help your children feel better, and make them feel as comfortable as possible in the process.
What is a walk-in pediatric clinic?

Your goal is to keep them healthy and safe, from the moment your child is born. At Getwell Urgent Care, we have the same goal. Our pediatric care providers are committed to ensuring your child gets the best start in life. We want your time with us to feel like a relationship, not just an appointment. We form trusting relationships with you and your child to build a solid foundation for a healthy life through our expert care.

Here are just some of what we offer here at Getwell Urgent Care:

• Wellness care, including immunizations and routine physicals
• Specialty care for urological and ear, nose and throat (ENT) care
• Care for children with chronic conditions such as asthma and diabetes
What is the typical age a child can be seen at your clinic?

Ideally your child's  pediatrician should see your child. However there are many times when this is not possible, like after hours, long wait times and some times immediate and urgent needs of a child. We can see all ages of children.

For most patients, the suitability to transition to an adult healthcare provider is based on age and development. Your pediatrician will help determine the age to transition care, which is typically between the ages of 18 and 21. It is recommended that your pediatrician begins this assessment at the age of 14 or 15. Young patients, such as teenagers, may have questions about sexuality or substance abuse subjects they may not want to discuss in front of a parent. We recommend that teenagers are given privacy when seeing their doctor. While the parents can be called in for discussion after the exam, teens should be offered the opportunity for examination and counseling separate from parents or guardians.
How do I find a good pediatrician?

Choosing the right pediatrician is an important decision that will impact your child's healthcare. Even if you have a healthy newborn or an older child with a simple cold or ear infection, you should put some thought into who cares for them, just in case their medical problems are a little more serious than you might realize.

Many parents have different needs. For example, they might like that their pediatrician is really fast and efficient and are in and out of the office quickly, while others might like someone who takes their time during the visit, even if it means that you have to wait a little longer for your appointment.
When should you start looking for a pediatrician?

So, your little one is due in a couple of weeks and you still don't have a pediatrician. Our pediatricians here at Getwell Urgent Care advise that the most ideal time to start your search for a pediatrician is during the last couple of weeks prior to your expected due date. Additionally, families that change insurance or relocate should likewise find a pediatrician before their children fall ill or require a checkup.

If you are in need of pediatric care for your child, come to Getwell Urgent Care today! Our team of kind and caring staff are experienced in treating children, and can make sure they leave with good health! To talk with an expert, contact our office today. Visit us online or give us a call to schedule an appointment at our clinic.